Right now, there are many different brands and models of VTE pumps on the market. Yet most health care workers are unfamiliar with the nuances between different models and their cause on the models's functionality. Many intuitively assume a correlation between sleeve size and effectiveness in treatment. Unfortunately, this supposed correlation is based upon ill-founded logic and is unsupported by evidence; as the efficacy of the VTE pump has nothing to do with the size of the sleeves.
CONTENTS
Efficacy Criteria
Hemodynamic Changes
Identification Effect
Characteristics of the (VFP)
Advantages of the (VFP)
Considerations
Multiple Treatments
Important Factors of the Best VTE Pump
EFFICACY CRITERIA
The acceleration of blood flow and the frequency of compression are the correct criteria for judging the VTE mechanical prophylaxis efficacy,
not its mere garment size!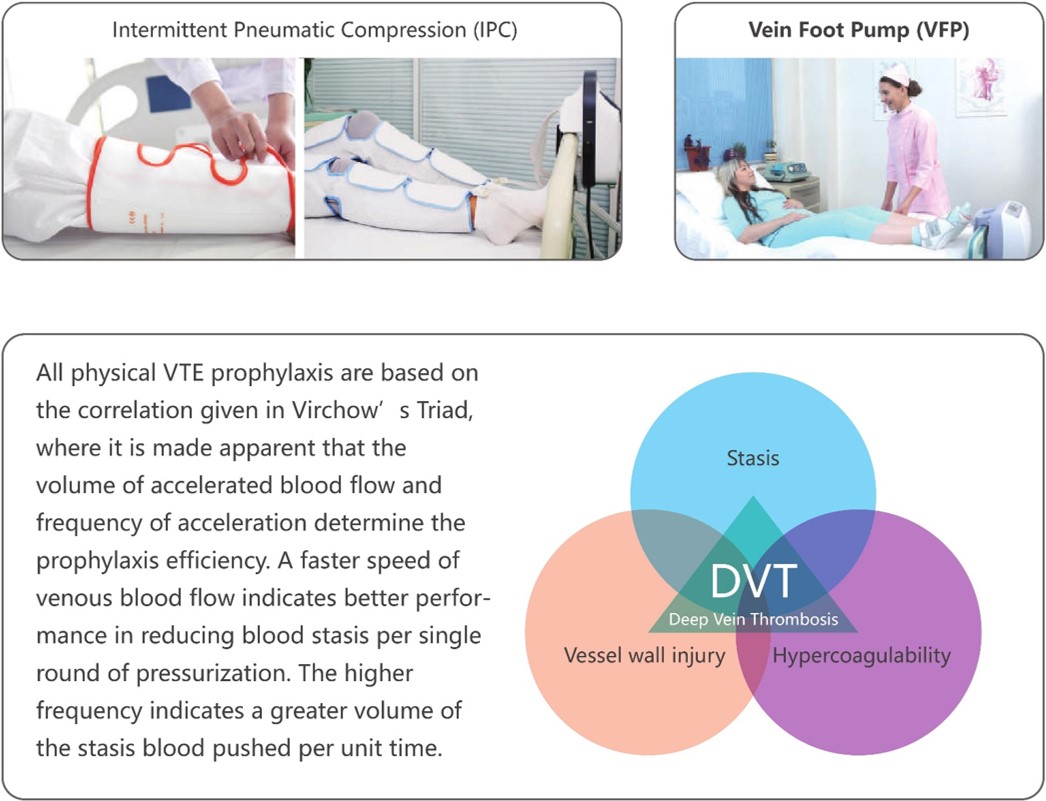 HEMODYNAMIC CHANGES
Which type of VTE pump corresponds to the fastest blood velocity and the highest frequency?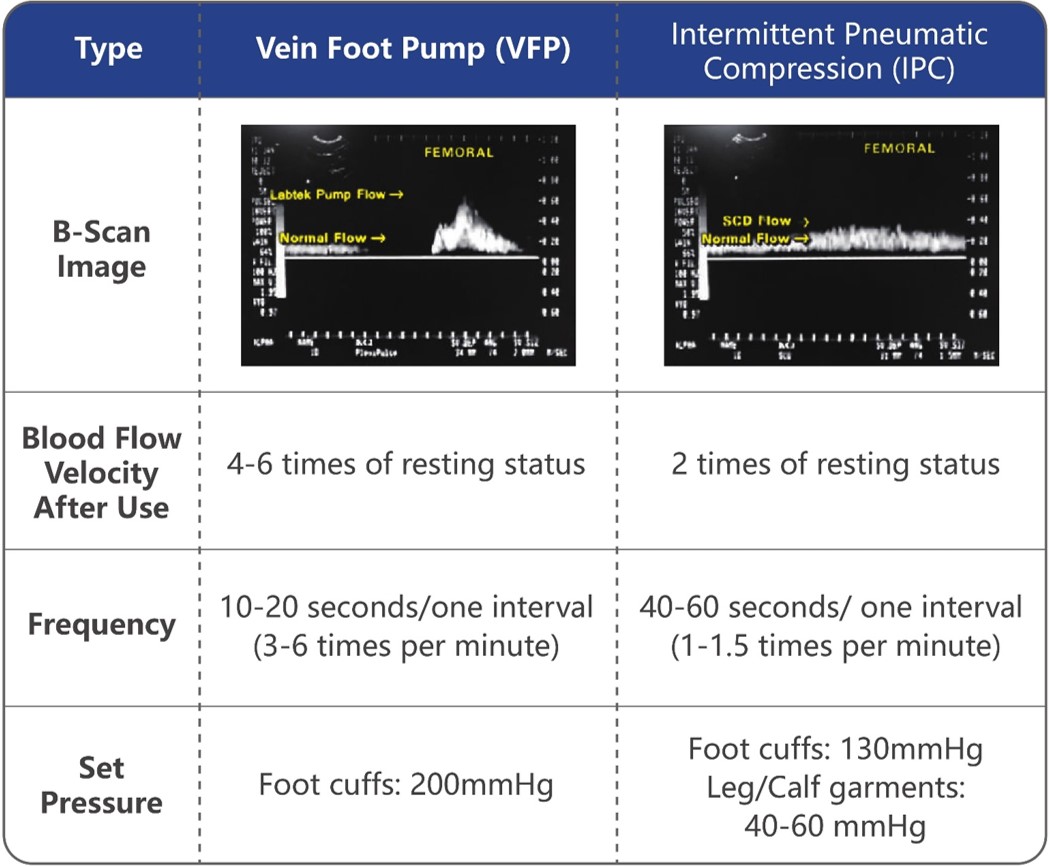 IDENTIFICATION EFFECT
How does one quickly identify the increase of blood flow velocity in clinical situations, and what are its effects?

Currently most hospitals have been equipped with bedside Doppler ultrasound, which provides them with the capability of quickly identifying the rate of blood flow in patients. If unequipped with such equipment, one can simply physically observe patients suffering with lymphedema, and determine whether if their swelling or the speed of swelling are reduced. From these methods one can fairly judge the efficiency of the compression.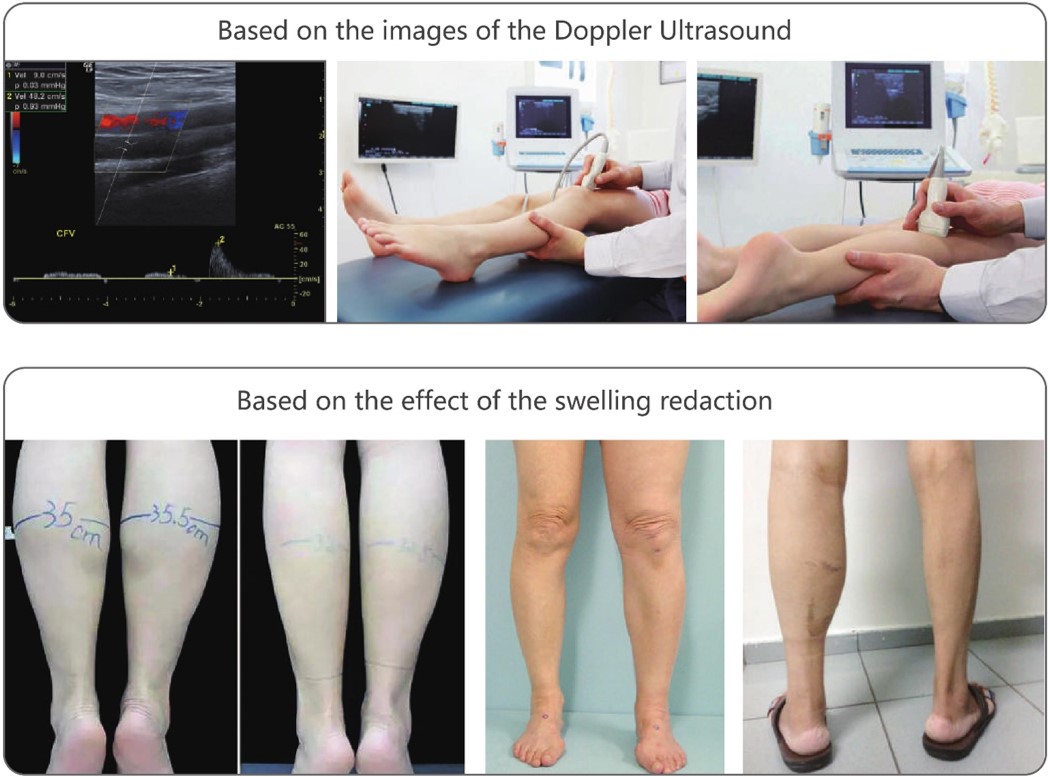 CHARACTERISTICS OF THE (VFP)
Why can VFP device increase blood flow velocity greatly with relatively small garments?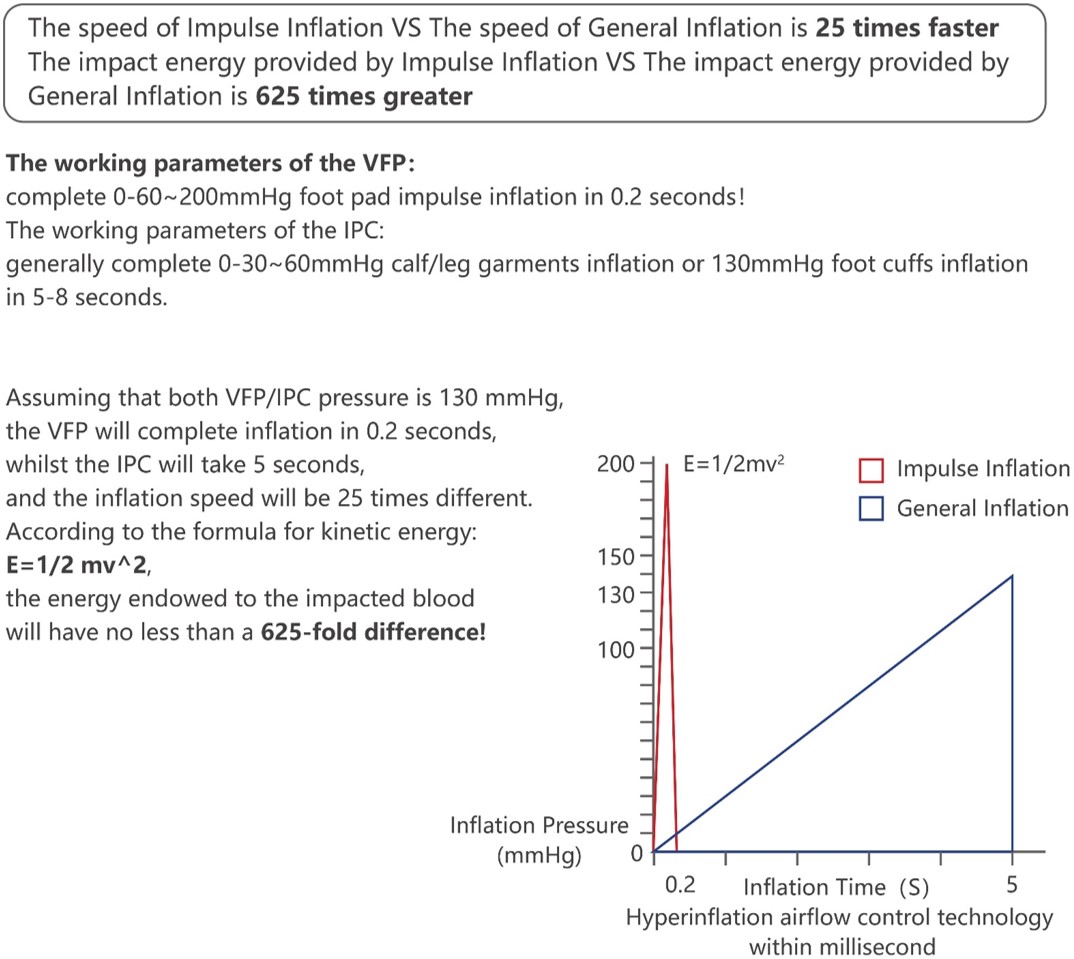 CHARACTERISTICS OF THE (VFP)
Why the VFP device has such large impact energy, but it wraps only around the feet, not the thighs or calves!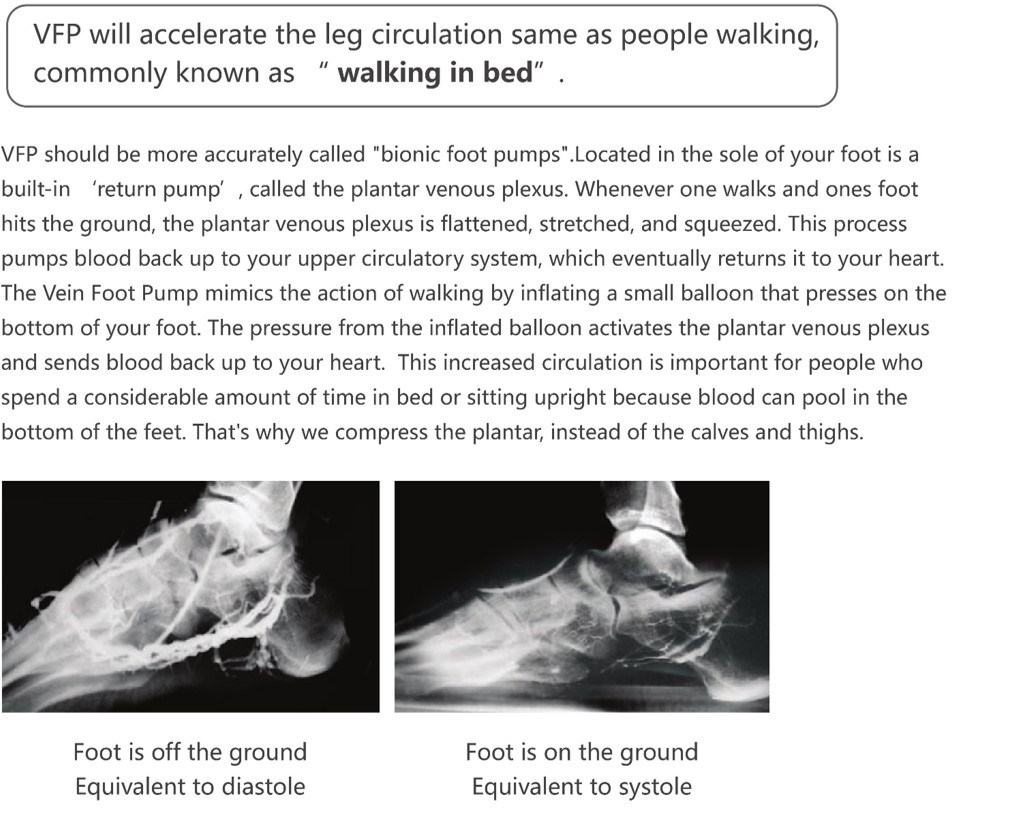 CONSIDERATIONS
Other Factors that should not be overlooked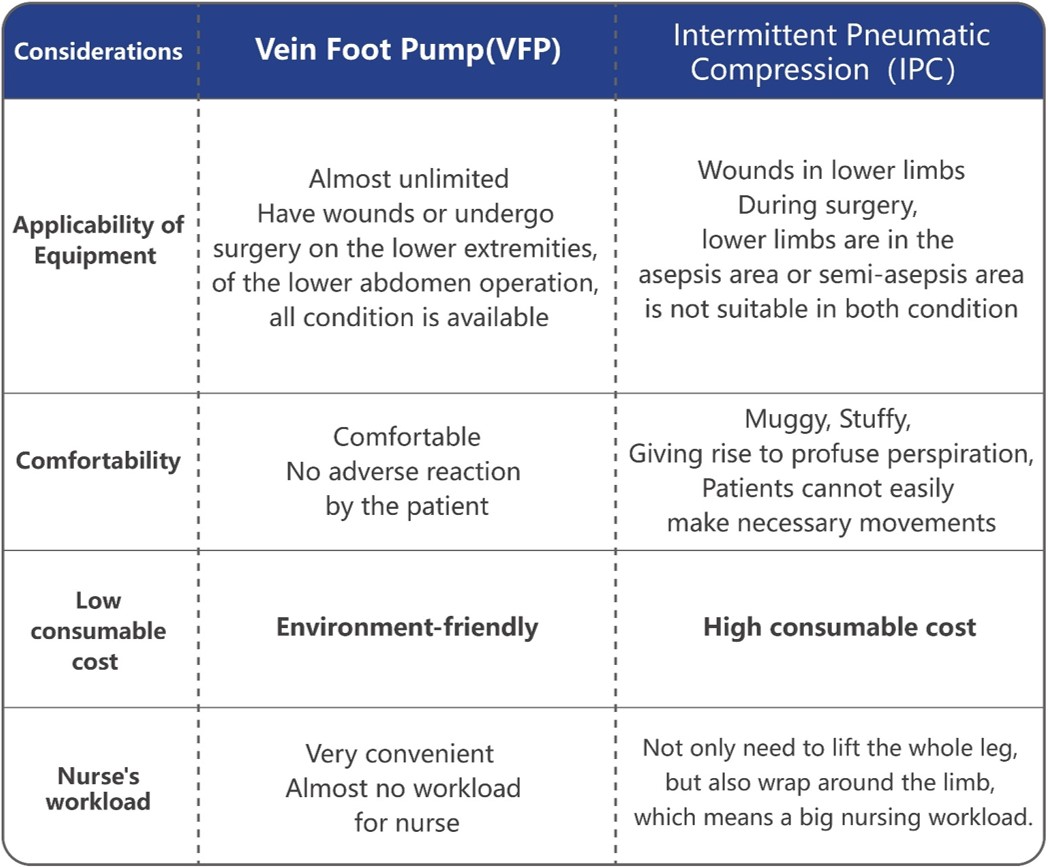 MULTIPLE TREATMENTS
Need one machine with multiple treatments at the same time Not only DVT prophylaxis but also edema reduction and increase of arterial blood!

Fast Swelling Reduction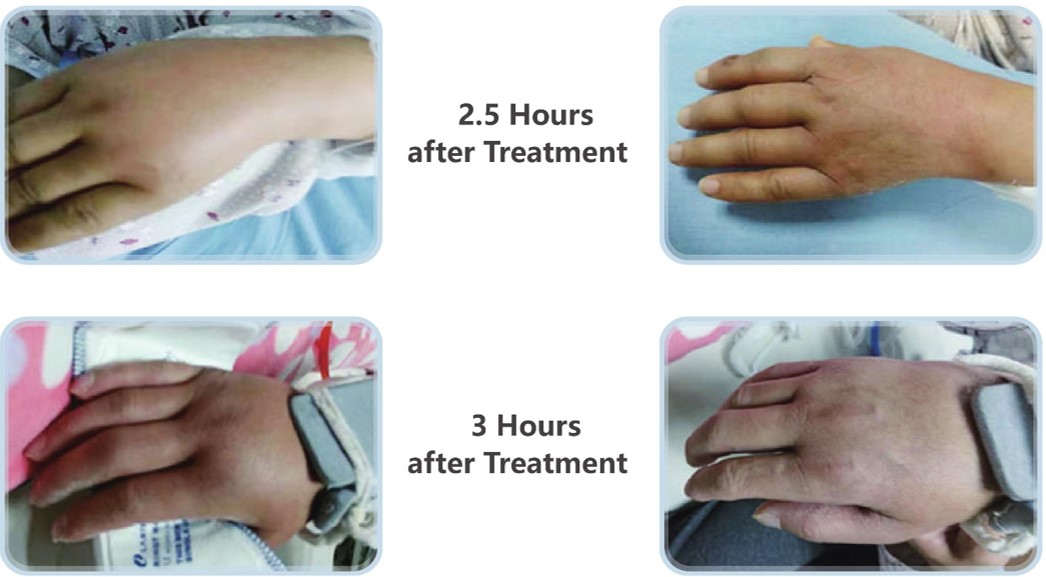 ONE MACHINE WITH MULTIPLE FUNCTIONS
The Vein Foot Pump is suitable for patients with limb trauma or those post-surgery, who requires increased blood supply, such as skin flap transplantation, or for the treatment of other internal medicine complicated with chronic limb ischemic diseases, such as diabetic foot, arteriosclerosis occlusion of the lower limbs, etc.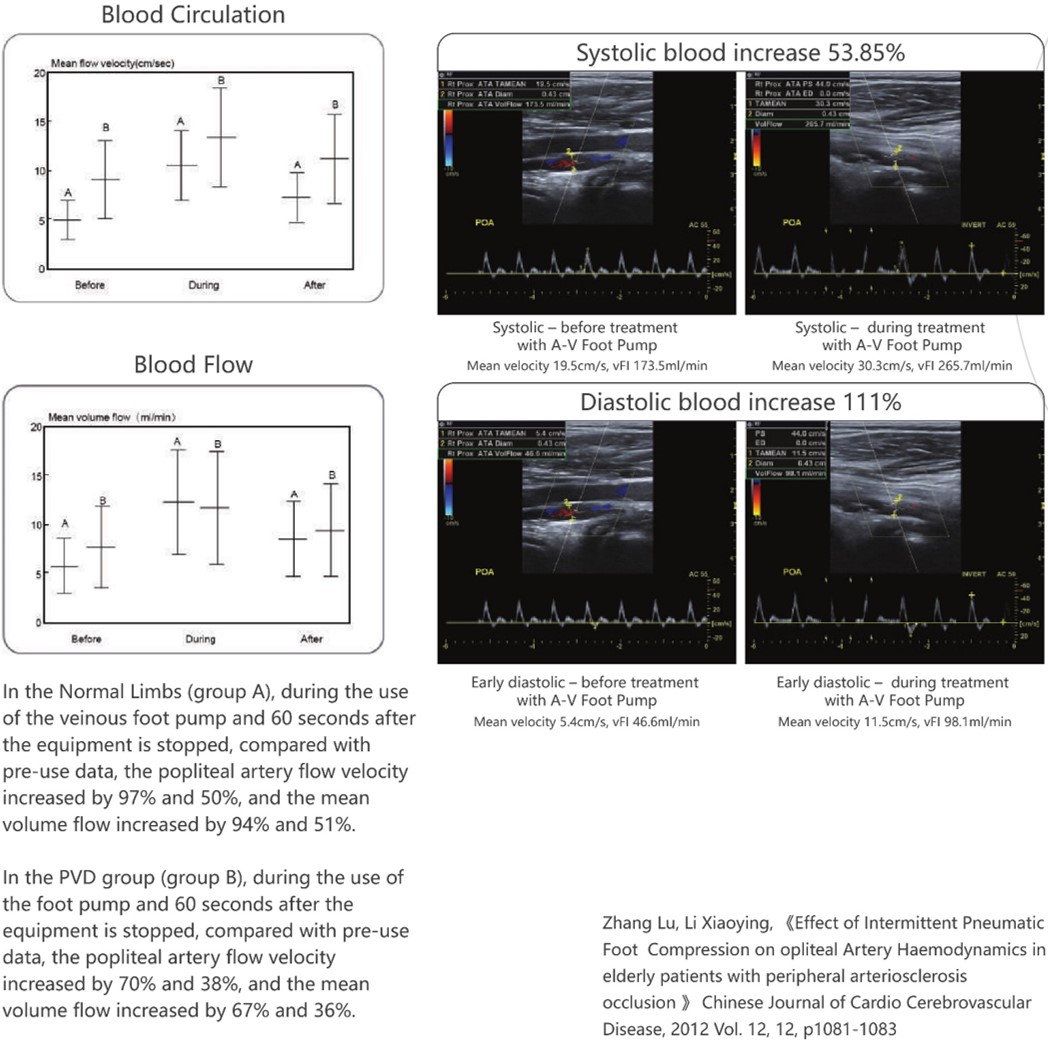 IMPORTANT FACTORS OF THE BEST VTE PUMP
The A-V Foot Pump provides not only the best-multiple treatment,
more applicable and comfortable
but also
the cost-effective and environmentally friendly!